"Plein-Air Bob" Raser Fine Art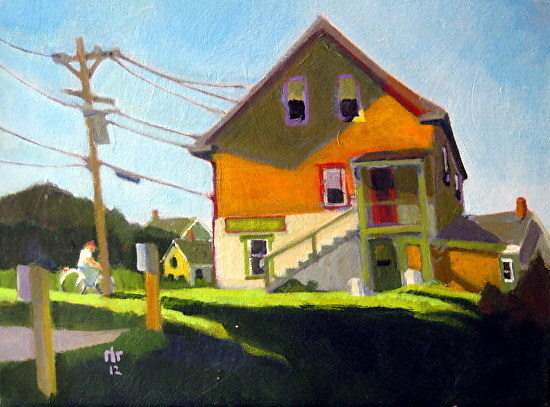 UPCOMING EXHIBITION AND SALE.
March 23, King Gillette Ranch, off Las Vergenes Road, moments from the Las Vergenes exit off the 101. The estate is the location of the headquaters for the National Park Service in the Santa Monica mountain range. This always popular spring sale features 15 Raser paintings, and begins at 10am. Come early. Please click on the Allied Artisis Sale bar on the menu at teh top of the Homepage. Click on "EVENTS" for setails.
Bob Raser ["Plein-Air Bob"] delivers paintings and commissions filled with optimism and sunlight, much like his personality.
Raser has always been a "storyteller", both in his paintings and as a career network television producer/director. After several workshops with noted California plein-air fine artist Tim Horn, Bob settled on a painting style "where the sun is bright and the shadows deep". Raser travels from the coast of Maine to California Wine Country to both paint and attend advanced level workshops with some of the nation's top painters. Bob's paintings have been jury selected for the "Face of California" exhibition at The Santa Paula Museum of Art, Santa Paula, CA., as well as jurried exibitions by the Thousand oaks Art Association. All the paintings for sale on this site and on ETSY at www.etsy.com/shop/RaserART are a result of this continuing plein air experience.
FREE frame included. Every original one-of-a-kind painting arrives framed as a free gift from the painter, and ready to hang. All come framed at no additional cost in the classic gold ,silver, or black plein-air 3" frame design as determined by the artist. "I choose the frame color based on what I believe best compliments the painting, and these timeless frames work in any decor."
An Easy Buying Experience. Once you click "BUY" and fill out the shipping address and payment information, the painting is on the way! When you click on "BUY", you have the option of using your Pay-Pay account or credit card through this safe and secure web site powered by FASO. A modest shipping charge based on a percentage of the sale price is calculated in to your final invoice that you can review before you check out. An additional shopping experience for Bob Raser paintings is also available for you at at www.etsy.com/shop/RaserART Bob also has a popular Face Book paage at Bob Raser Art spotlighting new works and 10 day only special offer pricing on selected paintings.
Click on "WORKS" in the menu and select a painting you want to know more about. Each framed piece of art has its own unique story based on the on-site experience of creating the painting. When you click on any painting on the "Works" page, you will find that Bob has written a "diary entry" to share his experience in creating that work. "Every painting done on location is some kind of adventure - from the people I meet, the bugs, the weather...I think it's that story and my notes on the back of many of the the panels, that give the owner a closer feel for the painting, as well as something more to share with friends or family who see it."
Comissions are welcome. Especially before the holiday season, Raser creates a limited number of paintings based on requests. These include private homes, B&Bs, cafés, businesses, favorite places, and more. Real estate agents often want a custom painting of that new home for that new homeowner as a house warming or "Thank You" gift. You can submit your custom request and photographs by e-mailing Bob Raser through this web site. Affordability and free pre-framing make each painting a perfect one-of-a-kind gift.
Blog Page difference. Plein air painters like Bob travel to great senic places to find great light and great things to paint. They also discover neat places to stay and eat! Bob's blog site shares the Inns and hotels where Bob & other plein air painters stay on Cape Cod, Nantucket, Sonoma, and more - when they visit these beautiful locations. You can check out the latest at www.pleinairbob.blogspot.com
Above: "Past Stonefish" 8x10 Acrylic. Private collector.