"Plein-Air Bob" Raser Fine Art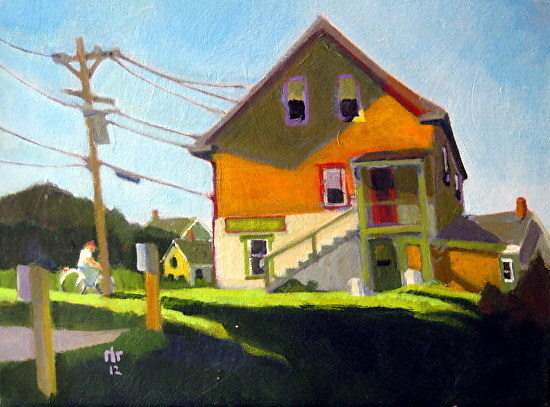 Thank You BEYOND Magazine and Welcome! To review the complete on-line gallery collection of available paintings to purchase including Raser's "SaddleBack Vineyard" pictured in the spring edition of Beyond, please click on WORKS.
Bob Raser ["Plein-Air Bob"] delivers paintings and commissions filled with optimism and sunlight, much like his personality. Raser has always been a "storyteller", both in his paintings over the past dozen years as a full time artist, and prior to that as a career network television producer/director. After attending workshops and one-on-one sessions with noted California plein-air fine artist Tim Horn, Bob settled on a painting style "where the sun is bright and the shadows deep". Raser travels yearly from the coast of Maine to California's Wine Country to both paint on-location at these beautiful places, and to take part in advanced level workshops with many of the nation's top plein-air painters. Bob's paintings have been jury selected for various exhibitions at The Santa Paula Museum of Art, Santa Paula, CA., as well as jurried exibitions by the Thousand Oaks Art Association and the Channel Islands Studio Gallery. Raser is a painting member of The Allied Artists of the Santa Monica Mountains and Seashore, and is an Associate Member of the prestegious California Art Club.
Sketches and studies available on ETSY at www.etsy.com/shop/RaserART Raser maintains an ETSY "bin" of unframed sketches and exclusive works that have become popular with younger clients interested in original fine art. Inexpensive [priced usually between $50-$100] and perfect for anyone with limited wall space. Recently, Raser has added a selection of fine art pieces as well at a higher gallery price point. Those pieces include frames when delivered. and are ready to hang.
Bob has a popular FaceBook page. Please go to FaceBook and search for Bob Raser Art. Please do "Friend" for all of Raser's painting postings and adventures. Raser produces a short art related "Friday Art SELFIE" video most weeks that take you to art locations, profile artists and events, and more. To see these always fun art SELFIE's, be sure to "FRIEND" Bob's Facebook art page at Bob Raser Art.
Comissions are welcome. Especially before the holiday season, and as birthday or annaversary gifts throughout the year, Raser creates a limited number of original paintings based on comission requests. These include private homes, B&Bs, cafés, businesses, favorite places, and more. Real estate agents often want a custom painting of that new home for that new homeowner as a house warming or "Thank You" gift. Smaller painting collections are commissioned as holiday or birthday gifts as well. You can submit your custom request and photographs by e-mailing Bob Raser through this web site. Affordability and free framing make each painting a perfect one-of-a-kind gift. Prices vary with canvas size.
Above painting: "Past Stonefish" [Port Clyde, Maine] 8x10 Acrylic. This painting can be seen on Bob's personal business card. The painting is in the home of a Private collector.